24h Daytona | Acura e Mercedes firmano grandi Pole Position
In Florida bello spettacolo con Blomqvist che centra in extremis il primato sulla ARX-06 di MSR beffando la Porsche di Nasr e la Acura di Taylor tra le LMDh-GTP. In LMP2 imprendibile Keating, LMP3 a Pino (SCM), mentre tra le GTD sono le AMG di WeatherTech e Winward a svettare.
Acura e Mercedes festeggiano la Pole Position per la 24h di Daytona 2023 che si disputerà il 28-29 gennaio, grazie a prestazioni maiuscole al termine delle Qualifiche andate in scena in Florida dopo il fine settimana dei test Roar Before the 24.
Nelle quattro sessioni cronometrate, sotto un cielo nuvoloso con alcuni raggi di sole a farsi largo, e un notevole vento a soffiare, i protagonisti dell'IMSA SportsCar Championship hanno dato spettacolo combattendo sul filo dei centesimi.
Difficile fare previsioni in vista della gara, però, perché soprattutto tra le LMDh e le GT3 c'è sicuramente chi ha giocato d'astuzia e strategia, consapevole che il Balance of Performance potrà essere modificato per la 24h (e al momento non è detto che quello attuale sia stato applicato nella maniera corretta).
Per questo si sono visti impegnati non sempre i piloti di punta nei vari equipaggi, con alcuni che hanno fatto segnare parzialoni record per poi transitare sul traguardo con tempi non così fenomenali. Ma anche questo ha garantito un bel divertimento durante tutta la sessione andata in scena in Florida.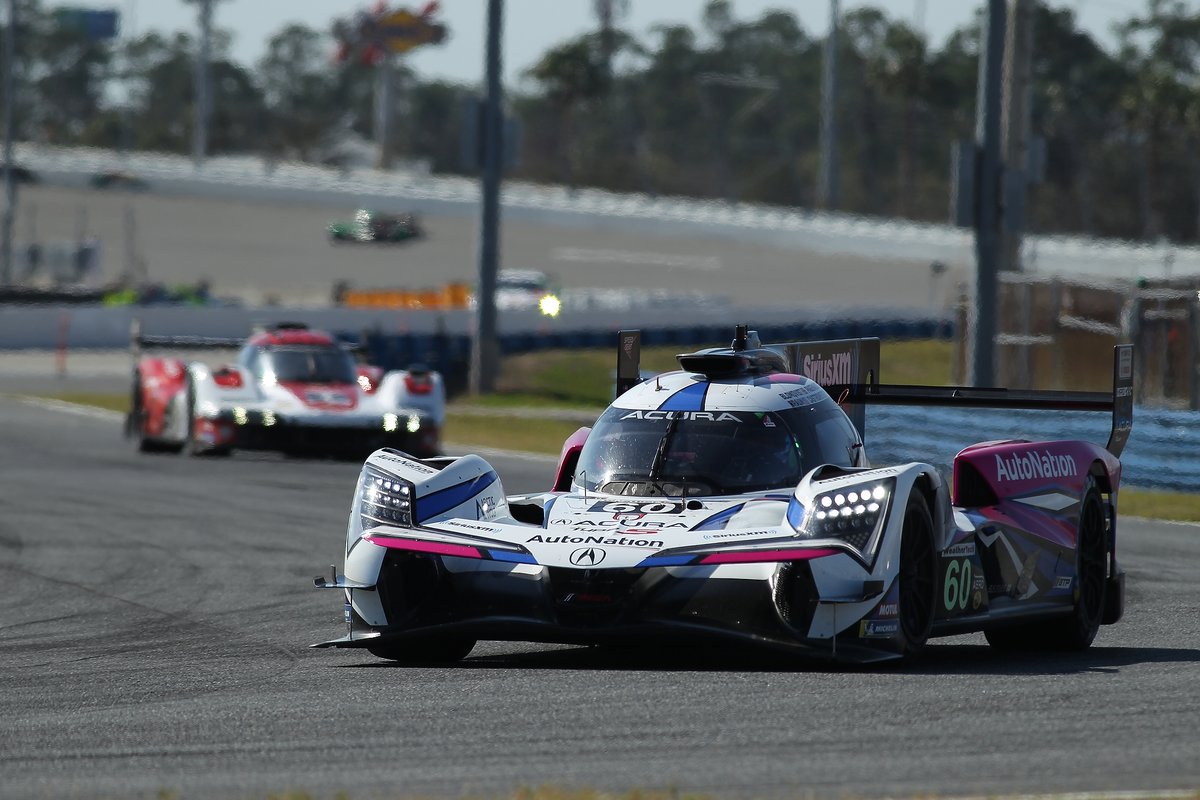 #60 Meyer Shank Racing w/ Curb Agajanian Acura ARX-06: Tom Blomqvist, Colin Braun, Helio Castroneves, Simon Pagenaud
Photo by: Art Fleischmann
GTP: grande lotta Acura-Porsche
La grandissima lotta tra Acura e Porsche per la Pole Position si è risolta solamente all'ultimo giro, vissuto da tutti con il fiato sospeso.
Questo perché dopo il miglior tempo stabilito da Ricky Taylor con la ARX-06 #10 c'è stato un incidente con protagonista Nick Tandy, andato a rovinare contro il muro in uscita dalla chicane 'Bus Stop/Le Mans' quando mancavano 5' alla fine.
Il pilota della Porsche è riuscito a riportare la malconcia 963 #6 ai box del Team Penske, ma la direzione gara ha fermato tutto con la bandiera rossa per togliere i detriti da quel punto. Una volta ricominciato a girare, alla Wayne Taylor Racing-Andretti hanno scelto di tenere fermo Taylor e questo azzardo è stato pagato a carissimo prezzo.
Nell'unica tornata a disposizione, Tom Blomqvist è riuscito a balzare davanti a tutti, mettendo la Acura #60 della Meyer Shank Racing-Curb Agajanian in Pole Position con il tempo di 1'34"031.
Felipe Nasr è invece secondo per 0"083, dopo che il brasiliano era riuscito per alcuni secondi ad issarsi al comando superando Taylor, ma venendo beffato da Blomqvist.
A seguire in classifica troviamo le tre Cadillac: le V-LMDh di Chip Ganassi Racing firmano il quarto e quinto tempo, rispettivamente con la #01 di Sébastien Bourdais e la #02 di Alex Lynn (anch'esso rimasto ai box nel finale). Fra loro chiude la #31 della Action Express Racing affidata a Pipo Derani, che accusa mezzo secondo dalla vetta.
A seguire ci sono le BMW del Team RLL, con la #24 di Philipp Eng settima e la #25 di Nick Yelloly ottava. Le M Hybrid V8 partiranno quindi davanti alla Porsche #6, mestamente ultima delle LMDh.
#7 Porsche Penske Motorsports Porsche 963: Matt Campbell, Felipe Nasr, Michael Christensen
Photo by: Art Fleischmann
LMP2: Ben Kea...King!
In Classe LMP2 non c'è stata storia e basta dire che contro Ben Keating era difficile potercela fare. Troppo forte il Campione WEC LMGTE AM in carica anche sulla Oreca della PR1 Mathiasen Motorsports per essere insidiato e difatti l'idolo locale silenzia tutti terminando in 1'40"541 la miglior tornata con la 07-Gibson #52, rifilando 1"2 ai piloti di TDS Racing, François Heriau (#35) e Steven Thomas (#11).
Quarto François Perrodo sulla Oreca #88 di AF Corse con cui ha recentemente vinto il titolo PRO/AM del FIA WEC, precedendo la #04 di George Kurtz (Crowdstrike Racing by APR), la #51 di Eric Lux (Rick Ware Racing), la #20 della High Class Racing con sopra Dennis Andersen e Dwight Merrimen sulla #18 di Era Motorsport.
In fondo alla classifica troviamo Joey Farano e Fred Poordad, protagonisti di un incidente fra loro che ha fatto scattare la bandiera rossa a 5' dalla conclusione, senza poter riprendere a girare.
Ad avere la peggio è stato il primo dei due, andato rovinosamente contro le barriere in uscita dalla chicane 'Bus-Stop/Le Mans' con la Oreca #8 di Tower Motorsport, mentre il pilota della #55 di Proton Competition ha parcheggiato nella via di fuga poco più avanti in una nuvola di fumo.
#52 PR1 Mathiasen Motorsports ORECA LMP2 07: Ben Keating, Paul-Loup Chatin, Alex Quinn, Nicolas Lapierre
Photo by: Art Fleischmann
LMP3: sinfonia Ligier diretta da Pino
Un grande Nico Pino piazza la zampata nella lotta per la Pole Position in Classe LMP3 e il suo 1'43"197 lo mette in vetta ad una Top5 tutta Ligier.
Il pilota della JS 320 #33 di Sean Creech Motorsport è di 0"110 più veloce della #36 di Dakota Dickerson (Andretti Autosport), mentre il terzo posto va alla #38 di Cameron Shields (Performance Tech Motorsport) per questione di centesimi.
A 0"3 abbiamo invece Guilherme De Oliveira con la #43 di MRS GT-Racing, seguito a debita distanza da Gar Robinson (#74 Riley).
In fondo al gruppo troviamo le tre Duqueine D08: sesto Luca Mars su quella #85 di JDC-Miller Motorsports, mentre Yu Kanamaru (#87 FastMD Racing) chiude settimo tenendosi dietro le due di AWA nelle mani di Orey Fidani (#13) ed Anthony Mantella (#17).
#33 Sean Creech Motorsport Ligier JS P320: Lance Willsey, Joao Barbosa, Nico Pino, Danny Soufi
Photo by: Art Fleischmann
GTD PRO: Engel vola con la Mercedes
Andando in ordine di importanza, in Classe GTD PRO la Pole Position la stacca Maro Engel in 1'46"784 al volante della Mercedes-AMG #79 preparata dalla WeatherTech Racing-Proton Competition.
Dicevamo di 'importanza', perché in realtà il tedesco a livello assoluto è dietro ai migliori tre della categoria GTD, ma poco importa perché riesce a piazzare la sua vettura davanti alla Aston Martin #23 della Heart Of Racing condotta da Ross Gunn per soli 41 millesimi.
Il terzo posto della categoria va alla Lexus #14 che Vasser Sullivan ha affidato a Ben Barnicoat, staccato di 0"139 dalla vetta, mentre tutti gli altri sono ampiamente sopra al secondo di ritardo.
E' il caso della Corvette #3 che Antonio Garcia piazza quarta a 1"2, seguita a pochi millesimi dalla Aston Martin #64 di Owen Trinkler (TGM/TF Sport), che batte a sua volta per tre decimi la Lamborghini #63 di Iron Lynx guidata da Andrea Caldarelli.
Più lontana la BMW #95 della Turner Motorsport che Bill Auberlen mette al settimo posto, con dietro ad oltre 2" la Porsche #9 di Laurens Vanthoor (Pfaff Motorsport) e Daniel Serra sulla Ferrari 296 #62 di Risi Competizione, addirittura a 2"7 dal leader.
#79 WeatherTech Racing Mercedes AMG GT3: Cooper MacNeil, Daniel Juncadella, Jules Gounon, Maro Engel
Photo by: Jake Galstad / Motorsport Images
GTD: bis Mercedes con Ellis
La festa Mercedes è completata dalla Pole Position ottenuta da Philipp Ellis in Classe GTD, andando anche più forte del collega Engel come dicevamo sopra.
L'alfiere della Winward Racing ferma il cronometro sull'1'46"093 con la AMG #57, tenendosi dietro le Mercedes di Fabian Schiller (#75 SunEnergy1) e Mikael Grenier (#32 Team Korthoff Motorsports) per un tris tutto della Stella di Stoccarda.
Le Acura NSX di Kyle Marcelli (#93 Racers Edge Motorsports with WTR) e Mario Farnbacher (#66 Gradient Racing) completano la Top5 seppur con oltre 0"6 di margine dal primato, con dietro la McLaren #70 di Inception Racing condotta da Marvin Kirchhofer e la Lexus #12 di Aaron Telitz (Vasser Sullivan).
Antonio Fuoco è al nono posto a 2"2 con la Ferrari #47 di Cetilar Racing-AF Corse, mentre la Lamborghini #19 di Iron Lynx completa la Top10 grazie a Franck Perera.
Dietro alla Huracan ci sono le BMW di Madison Snow (#1 Paul Miller Racing) e Rob Foley (#96 Turner Motorsport), anche qui le Porsche soffrono dato che la prima delle 911 GT3-R è 14a con Jan Heylen (#16 Wright Motorsport) a quasi 3".
#57 Winward Racing Mercedes AMG GT3: Russell Ward, Philip Ellis, Lucas Auer, Indy Dontje
Photo by: Art Fleischmann
Il programma della 24h di Daytona 2023
Ora team e piloti potranno riposarsi per tre giorni, poi si torna in pista giovedì e venerdì per altre cinque sessioni di Prove Libere.
La gara scatterà sabato 28 gennaio quando in Italia saranno le 19;40 e tutti potranno vederla tramite il sito IMSA.com su IMSA TV.
Ecco in dettaglio cosa ci attende.
Giovedì 26 gennaio
Prove Libere 1 - 17;05-18;35
Prove Libere 2 - 21;20-23;05
Venerdì 27 gennaio
Prove Libere 3 - 1;15-3;00
Prove Libere 4 - 17;20-18;20
Sabato 28 gennaio
Prove Libere GTP - 00;25-00;45
Gara (partenza) - 19;40
Domenica 29 gennaio
Gara (arrivo) - 19;40
IMSA - 24h di Daytona: Qualifiche
Iscriviti ed effettua l'accesso a Motorsport.com con il tuo blocco delle pubblicità
Dalla Formula 1 alla MotoGP, raccontiamo direttamente dal paddock perché amiamo il nostro sport, proprio come voi. Per continuare a fornire il nostro giornalismo esperto, il nostro sito web utilizzala pubblicità. Tuttavia, vogliamo darvi l'opportunità di godere di un sito web privo di pubblicità e di continuare a utilizzare il vostro ad-blocker.
Diventa un iscritto
Disattiva il blocco delle pubblicità